SPS Caprice .......she is really fantastic!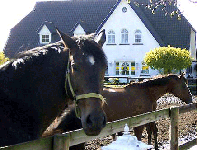 Other horses from this dam line are:
Ferrero v. Florestan - Landadel Fantastic placements at elementary level dressage horse tests.
2009 at World Championships for young Dressage Horses Verden with Yvonne Reiser Video

Ferrara v. Florestan - Landadel Video Picture
Ferrari v. Florestan-Landadel 5ju 6j. Finalist at the Federal Championship Warendorf Video
Limitless Girl v. Landadel Spr. Bis Kl S* erf.
Lady Larissa von Landadel
El Paso VA v. Escudo I ( Vizechamp Freispr.) 2002, BC Sieger, 2006 Spr. bis Kl. int S***
Sunrise VA v. Singular Joter - ridden by Imke Schellekens-Bartels
World Equestrian Games Team Silver 2006World Cup FInal - 2nd 2007,
Team Gold - European Championships 2007 Team Silver - 2008 Olympic Games
The international show jumping horse "Wahre Liebe" (Hugo Simon) descends from this damline as well.

Licensed Stallions: Please look at the videos ....
Floratio v. Florencio - Landadel Station LG Celle (155.000 €) (to the owner of Sunrise)

Royal Classic v. Royal Highness - Florestan Video

Five Star II Prämienhengst v. Florestan - Wolkenstein 2008 ( 170,000€) Picture

Five Star v. Florestan - Wolkenstein Licensed Stallion Picture

Schwarzenegger v. Sion & competing Inter I Video

Sir Calypso v. Sandro Hit - Calypso II Station Burghof (Fam. Brodhecker) Picture

Lamborghini Diablo v. Landadel Bis Kl S* erf. (ehem. Gestüt Famos) Pictures

Lomitas v. Landadel Spr. bis Kl S** erf ( 2 Siege in Aachen) div. Youngster Cup Gewinner Video

Westernhagen v. Weltmeyer - Landadel HLP Prüfungsieger 138 Pkt. (sold to South Africa)

Galileo v. Grannus, Frambeua v. Werther ( Ldb Celle),
.....another three champions by Landadel x Calypso II
| | | | | |
| --- | --- | --- | --- | --- |
| | | | | |
| | | Lamborghini Diabolo | | Limitless Girl v. Landadel |