Royal Highness by Regazzoni - Dream of Glory - Weltmeyer - Lanthan - Argentan - Ehrenschild
born in 2000, black, stick measurement 1,72 m
Video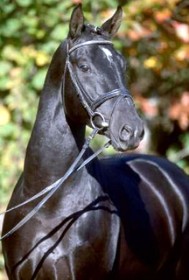 He won his 30-days test in Schlickau convincingly
(score of 8,25 - 2 times a 9,0 for his performances under a test rider). In 2004, winner of riding horse ability classes.
Hanoverian Champion of four-year-old Stallions at the World Breeding Championships dressage for young horses in Verden 2004.
His fascinating pedigree combines the top-class bloodlines of Rubinstein - Donnerhall - Weltmeyer, and it also includes "Absatz" as well as the thoroughbred stallion "Der Loewe". All these stallions are trademark stallions, and they all achieved a breeding evaluation of 140 points and more. Royal Highness has a beautiful type and his exceptional basic gaits are simply exceptional. He is a dressage talent that unifies the bloodlines of Rubinstein and Donnerhall. Even as a young stallion, he already knows how to present striking performances. Winner of riding horse ability classes in 2004.

Federal Championships 2005
Score of 9,3: Royal Highness won the qualifier for
the final of five-year-old dressage horses. 4th place at the final!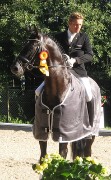 Following a spectacular performance at the qualifier and an exceptional score of 9,3 (highest score at this competition), Royal Highness portrayed his extraordinary dressage talent one more time. He outpaced his competitors, and the judges paid tribute to this brilliant performance. At the final where the judges pointed out that his trot has been the most perfect one, he ranked fourth. Adding up both scores, Royal Highness achieved the highest result in the division of five-year-old dressage horses.