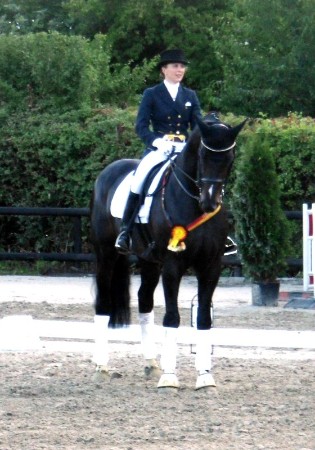 by Brentano - Rotspon – Davignon - Weltmeyer

approved stallion, dark-brown,approve
stick measurement 17.0 h.h., born in 2004 


Federal Champion 2007 Video

Benetton Dream is the unbeaten champion in riding horse ability classes 2007,
the Hanoverian champion of three-year-old stallions in 2007,
highest scores in all four riding horse ability classes, trot 9,5; canter 9,5; walk 10,0; conformation 9,0;
overall impression 9,5; final score 9,5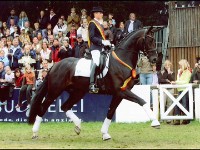 His sire Brentano II counts among the 10 best dressage breeding stallions. Apart from his valuable damline, the exceptional dressage stallions Bolero, Rubinstein and Donnerhall are combined in Benetton's first-class pedigree.
Benetton Dream is the unbeaten champion at riding horse ability classes, including the Federal Championships in Warendorf in 2007. He won the Hanoverian Championships of three-year-old stallions on the occasion of the World Breeding Championships Dressage for Young Horses in Verden in 2007. In front of a home crowd, he was the dominating competitor at the qualifier and the final. He convinced the judges who described him as being an "expressive Hanoverian stallion, true to type, of exceptional quality"!
Benetton was the favourite at the 2007 Federal Championships of three-year-old stallions in Warendorf, and he left all competitors behind. He achieved the highest scores in all four riding horse ability classes. His perfect, ground-covering and supple walk was judged with the fantastic score of 10,0 in both tests.
30 Day Test Champion (Schlieckau)
Dressage score 9,3
Overall score 8,52
In 2009 as well as qualifying again for the Bundeschampionat where he made it through to the final rond he was also winner of Novice (L) level classes with scores up to 8,8.
His first crop born in 2009 were very highly regarded - several of these were awarded Champion at foal shows in Germany.
6 foals were selected for the Verden August Elite auction & they sold for an average price of 8,800 Euros.
At the Verden Autumn Elite auction a Benetton Dream foal was the highest priced filly foal & sold for 19,000 Euros.
We are expecting his first foals in 2011......
Brentano II

Bolero

Black Sky xx

Baronesse

Glocke

Grande

Ferbel

Rötkappchen

Rotspon

Rubinstein I

St. Pr. Antalia

Dornröschen

Davignon

St. Pr. Windrose
Approved stallions and sport horses descend from this extremely succesful dam line. He always knows how to attract everybody´s attention with his scopey movements. Benetton Dream, this gorgeous, high-quality stallion is a first-class recommendation for the World breeding Dressage Championships for Young Horse. He is a magic stallion par excellence – and perhaps a future star in the dressage heaven.
Hanoverian Champion

of three year old stallion


Training

Stallion Show at Gestüt WM